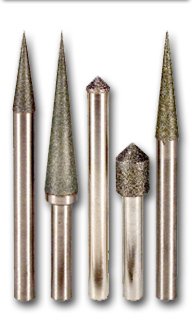 Diamond Tooling
Grinding Tooling
| | |
| --- | --- |
| | Electroplated Pins & Wheels |
| | Die Quip stocks a complete line of cylindrical and conical electroplated grinding pins in a variety of grits and your choice of either diamond or CBN superabrasives. We can also custom manufacture any pin or wheel to your specifications. All Die Quip electroplated products start with a high tolerance, ground tool steel blank for accuracy and strength. We then select high quality superabrasive powder from reputable sources and electroplate it to the blank with state-of-the-art equipment. This results in a fast cutting, American made, consistent tool that produces more parts at a lower cost than less expensive tools. |
| | |
| --- | --- |
| | Bonded Pins & Wheels |
| | Die Quips line of bonded tools includes cylindrical and conical pins for internal grinding along with straight and shaped wheels for outside or surface grinding. We stock a number of tools in a variety of grits from 100 to 3000 and can custom manufacture a wheel or pin to meet your needs. Die Quip has three different bonds for you to choose from; RESINOID (green) is a free cutting bond excellent for general purpose grinding of carbide, COPPER bond was specifically engineered for grinding carbide and ceramic to a mirror finish and is a hard bond that retains its shape well during grinding. CARBIDE bond is very hard and recommended for the grinding of tool steels. All of our pins are bonded to tungsten carbide shanks for the greatest rigidity while our wheels can be provided with an aluminum or Bakelite core. |
| | |
| --- | --- |
| | Grinding Accessories |
| | Find the collet or tools you need to keep your Die Quip grinder running properly. |
Polishing Tooling
| | |
| --- | --- |
| | Diamond Compound |
| | Die Quip's line of diamond compounds are specially formulated for use in the mold and die industries. They will withstand severe polishing conditions without loss of cutting quality. The use of a stable carrier assures diamond particles stay in suspension throughout the cutting cycle. The quality and design of our carrier is not affected by frictional heat generated during polishing. This keeps the diamond compound in the working area for faster cutting speeds and less compound needed per cut. |
| | |
| --- | --- |
| | Diamond Powder |
| | Die Quip's line of diamond powder is expertly manufactured by double grading and computer micro ionization. This virgin synthetic, manufactured diamond powder quickly removes stock while providing an excellent finish. We have two different powders to meet your specific polishing application. They can be used for wire polishing of diamond dies or mixed with grease to make your own diamond compound. We also have natural diamond power upon request. |
| | |
| --- | --- |
| | Steel Angle Lapping Pins |
| | Die Quip's line of steel angled polishing pins are made from tool steel that is hardened to 45/50 Rc to resist wear while polishing with diamond compound. They are available in two different forms and many different angles. First, is our ground pins that are ready to use and are precision ground to a tolerance of +/- 15 minutes of a degree. The blank pins are rough formed and should not be used until they are precision ground. Blanks are intended to reduce costs for die shops with a pin grinder compared to grinding them from a rod. |
| | |
| --- | --- |
| | Wood Angle Lapping Pins |
| | Die Quip's line of wood angled lapping pins are precisely manufactured from highly compressed hardwood layers with alternating grain direction which is then saturated and bonded with resin. This provides a material that is easily machined to accurate shapes, grinds to a smoother surface finish and is tougher than solid wood. These features produce a lapping tool that lasts longer by retaining their shape and produces better surface finishes. |
| | |
| --- | --- |
| | Lapstock |
| | Die Quip's line of lapstock is used as the lapping tool to polish or size wire die bearings. It is precision centerless ground from music wire and W1 tool steel to provide an accurate lap that holds size for a long time. It is provided in 2 or 3' (0.6m or 0.9m) lengths which means one piece can be cut into a number of small lengths making lapstock a very economical lapping material compared to plug gages. It is available in increments of .001" (0.025mm) over the entire size range. |
Wood and Felt Bobs

Die Quip's line of wood and felt bobs are precisely manufactured from the highest quality materials to perform better in high speed hand polishing applications. The wood bobs are best used with light to medium cutting compounds for removing light wear or polishing bell radiuses. Felt bobs are best suited for mirror polishing of dies with light diamond compounds. Polishing with a high speed hand tool with bobs is faster than with a wood stick, produces a better surface finish and significantly reduces the stress on the operators hands, wrist and
forearms.
Polishing Accessories

Our diamond lubricant is designed to reduce the polishing cycle by increasing the cutting action.
This is achieved by keeping the diamond compound from drying out during the polishing cycle.
Die Quip's cotton is supplied is a 1200 foot continuous roll for easy use in removing diamond compound after a working cycle.
Rice paper is the best solution for removing diamond compound from dies smaller than .030" (0.70mm)
due to its fine thickness and high strength.
| | |
| --- | --- |
| | Lapping Sticks |
| | Die Quip's line of wood lapping sticks are precisely manufactured from the highest quality materials to perform better in high speed hand polishing applications. Choose from our Super-Lap, Maple, Pine or Balsa wood to produce the best finish for your application. |