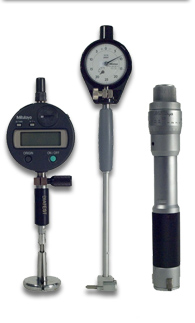 Die Measuring
| | |
| --- | --- |
| | Plug Gages |
| | Die Quip offers a full range of plug gages to choose from which includes sets, libraries or individual gages in inch or metric diameters. Our individual gages can be used to calibrate micrometers or replace worn or lost gages from a set. Listed below are the most common sets, but we also can provide sets up to 1.000" (25.49mm), ring gages, thread gages, custom lengths or special orders for custom applications. Let us know about your gaging needs and Die Quip will come up with a solution for you. |
| | |
| --- | --- |
| | Angle Gages |
| | Die Quip's angle plug gages are a quick, easy and inexpensive way to check approach angles. The gage will lock into place if the angle is correct or move from side to side on incorrectly made ones. Each gage is made from 1/2" (12mm) tool steel that is heat treated to 55Rc. The angle is turned on a CNC lathe then ground to a +/- 5 minutes of a degree tolerance. |
Hole Gages

Die Quip's internal hole gages are a quick and easy method for measuring die and tube inside diameters. They can be used with manual or digital micrometers for measuring at machinery or in
the quality lab. They are available in a value brand and from Mitutoyo.
| | |
| --- | --- |
| | Internal Micrometers |
| | Die Quip's value and XT series of mechanical and digital holemikes are a great method for accurately measuring die and tube inside diameters. They're a quick, easy and accurate method to measure at machinery or in the quality lab. The value series are available between .150-12" while XT can measure between .080-12" (2-300mm) to fit your size requirements. |
| | |
| --- | --- |
| | Bore Gages |
| | Die Quip's extensive line of dial and digital bore gages has the right solution to measure bar or tube drawing dies or tube inside diameters. Extension rods, heavy duty models, pistol grip gages and custom heads are all available to meet any application need for inside diameter measuring. |
| | |
| --- | --- |
| | Die Inspection Station |
| | Die Quip split ball gages are the most accurate physical method for measuring small to medium sized die diameters and ovality. They are used with either a dial or digital indicator and operated by hand or for the most accurate results on a stand. These gages are available between .0185-1.620" (0.47-41mm) to fit your size requirements and with a second indicator mounted to the stand can also measure bearing length. |
Die Check

The DIE CHECK uses your standard plug gage sets with a dial or
digital indicator to determine bearing lengths. Approach angles are
also able to be calculated by taking two or more measurement on the
angle. It's quick three step procedure, as shown on the left, makes it the perfect tool for the die shop or quality lab to insure that the die has a correct bearing length before going into production or problem solve
after a die has failed.
| | |
| --- | --- |
| | Die Quip Eye Loupes |
| | Die Quip's complete line of eye loupes and magnifiers provide the best solution for hand held magnified tool inspection. |
| | |
| --- | --- |
| | Microscopes |
| | Die Quip's extensive line of microscopes allows you to chose the right tool for the job. Whether it's inspecting dies or wire of any size we have the right microscope to do it. Greater magnifications, different lighting options and camera or display products are available to produce the high quality dqimages needed in today's manufacturing. |
SD201

Die Quip's SD die measure system is specifically designed to measure small diameter dies from .001-.090" (0.025-1.5mm) in round or shaped sizes. It is an economical, manually operated system that features a geometric processor that automatically calculate the
diameter and roundness.
| | |
| --- | --- |
| | TM201 |
| | Die Quip's TM Tool measure system is specifically designed to measure drawing dies with diameters from .020-4.0" (0.50-100mm) in round or shaped sizes, floating plugs or drawing mandrels, extrusion tips or dies and other draw tooling. It is an economical, manually operated system that features a geometric processor with automatic edge detection which, automatically calculate the diameters, roundness, drawing angles and bearing lengths. |
| | |
| --- | --- |
| | EM10 Die Profilemeter |
| | The EM 10 from ECOFORM provides a simple, quick and high precision assessment of any drawing die geometry. The EM 10 measures the average and local approach angle, bearing length, and diameter of the die. The EM 10 features reliability and speed in generating measurements which allows you to check every die before being put into production eliminating problems before they occur. Data analysis is quick and informative to production, not just in the die shop. |